One of the things that make us the happiest is giving back to our community. We are committed to helping the less fortunate with their eye health – we view it as a responsibility as medical professionals and would have it no other way.
Buy a Pair, Give a Pair.   
We believe improving our community's health is our most important job. We also believe our community is bigger than just Wichita – better eye health for ALL of those in need is our goal. With your help, we are able to make a difference every single day for someone in need. THANK YOU!
For every pair of glasses you purchase, we make a donation to Optometry Giving Sight. It's that simple. The donation provides a pair of glasses or an eye health exam (or sometimes both!) to someone in need. This program is SO important to us and to our community, and we're proud to be a part of it!!
InfantSEE®,

a public health program, managed by Optometry Cares® – the AOA Foundation, is designed to ensure that eye and vision care becomes an essential part of infant wellness care to improve a child's quality of life. Under this program, participating optometrists like Dr. Barger provide a comprehensive infant eye assessment between 6 and 12 months of age as a no-cost public service.
Good vision is critical to learning, because more than 80 percent of learning is done visually.  Yet studies indicate that more than 20 percent of kindergarten children have vision problems, and this number climbs to between 30 and 40 percent by the time these children reach high school graduation.
Vision problems may keep many children from graduating from high school, as more than 70 percent of juvenile delinquents and 60 percent of adults in literacy programs have vision problems. SEE TO LEARN® was developed to reduce these statistics, and optometrists from across the country are working together to make sure all children can see to learn.
No idea what to do with those old glasses?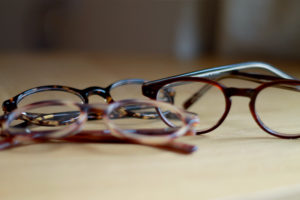 Bring us your old eyeglasses, and we will donate them to someone in need through our partnership with the local Lions Club International Chapter. Remember us as you're cleaning out drawers and cabinets. Feel free to drop off donations at any time.