Optometrists
Dr. Greyson Barger
Dr. Greyson Barger grew up in Sedgwick, KS, and graduated from Sedgwick High School. He received his Bachelors of Science from Bethel College and earned his Doctorate of Optometry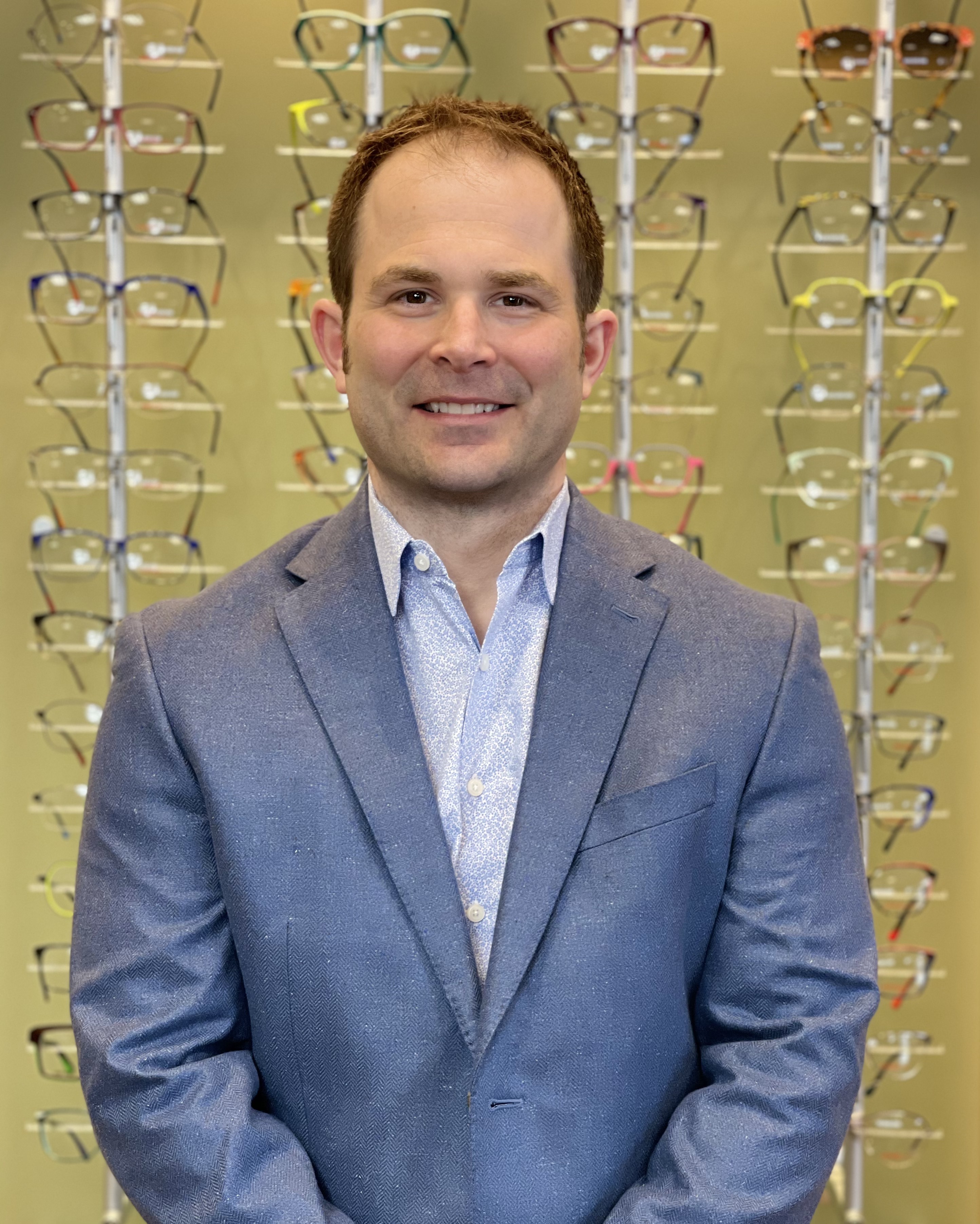 from the Illinois College of Optometry located in Chicago, Illinois.
Dr. Barger has trained in a variety of clinical settings including Jamaica Plain VA in Boston, MA, Commonwealth Eye Surgery in Lexington, KY, and at several university-affiliated clinics in the Chicago, IL area. These varied experiences have given him a well rounded clinical background and excellent experience with the management of eye changes caused by diseases such as diabetes, high blood pressure, macular degeneration, and glaucoma. Dr. Barger has also had extensive experience with pre and post-operative care of cataract and refractive surgery (LASIK) patients. Dr. Barger also has a particular high interest in the fitting of scleral contact lenses and other hard to fit lenses.
Dr. Barger has also had extensive training in pediatrics and vision therapy. He recommends infants receive their first exam between six months and 12 months of age.
Dr. Barger is a member of the American Optometric Association, Kansas Optometric Association, Wichita Optometric Society, an Associate of the College of Optometrists in Vision Development (COVD), AOA Sports Vision Section, and AOA Cornea and Contact Lens Section.
In his free time, Dr. Barger enjoys spending time with his wife, Shelley, two children, Landrey and Harrison.  He also enjoys golf, weight lifting, softball, and biking.
Dr. Laura Aelvoet
Dr. Laura Aelvoet grew up in a small city outside of San Antonio called La Coste, TX. She then continued her studies at The University of Texas at Austin, majoring in biology and graduating with High Honors. Dr. Laura always had a passion for helping children which blossomed while in college. After college, she wanted to continue her education with an emphasis in pediatric vision and ultimately attended Southern College of Optometry in Memphis, TN.

While attending optometry school, Dr. Laura became proficient in diagnosing and treating all ages of patients. While doing so, Dr. Laura received multiple awards and honors for her rapport with patients and overall clinical knowledge. She was even selected as an ambassador of the school.
Though Dr. Laura enjoys traveling for fun, she has also done trips with SVOSH to Mexico and Columbia to provide free eye care to those in need. After graduating magna cum laude, Dr. Laura decided to further her education in Pediatrics, Vision Therapy, and Neuro Rehabilitation by completing a residency. She has a passion to specialize in children's vision, therapy, and brain-injured patients.
In her spare time, Dr. Laura enjoys staying active and traveling with her husband, Caleb. She also enjoys the thrills of college sports and is an avid Longhorn.